Moderators: bigwave, AirMail, pillow
Haha. Thanks guys. Seriously, I made some phone calls and played a bit of Facebook/Twitter tag and it was everyone else who stepped up to do it. It's tomorrow afternoon. Pics ASAP.
Wow! My MX Crew KILLED it today! I can't say enough about the great group of people who showed up and blew everyone's mind at my school this afternoon. Numerous teachers came and thanked me for organizing such an interesting an exciting presentation. They were very impressed with all the speakers today. The students couldn't get enough of the riders! After school a bunch of kids told me, "Beats and Gauldy were the coolest people they'd ever met!" Hahaha. They're young, they'll learn. (Just kidding guys!) Both Kyles (Beaton and Springman) made a bunch of 12 year old girls' hearts flutter! Hahaha. Poor guys may have to deal with a young group of moto-stalkers.
As for the girls, Rachel and Camille were awesome! They should be proud of how they represented the sport of motocross. Well-spoken, confident, friendly, knowledgeable and amazing with all the kids. I know my own personal moto crush on these two girls has gone through the roof too. LOLOL
Beats delivered in an intelligent, soft-spoken, style that had everyone's attention. Gauldy...whaddya say...??? He's a beauty on the mic! He had EVERYONE laughing, and following his every move. That said, he shared his life-long passion for moto and really drove home the safety aspects of riding a motorized vehicle.
We all shared our love of motorcycles, had a bunch of laughs, and hopefully got a whole lot of kids interested in riding. AWESOME!!!
The giveaways were NUTS! EVERY kid walked away with a mitt full of stickers from a bunch of moto companies, pictures, posters, autographs and hi-5s! In addition, the Allison Brother jerseys were won by kids who correctly answered questions from the presentation. The winners were STOKED! We also gave away a Troy Lee hat and an FMF shirt to some very happy kids! Unfortunately my phone pics of the winners were blurry, but I'll try to get some next week. *I've gotta give a HUGE thanks to Stally and the CMRC for the THIRTY FREE WKND PASSES! They were all given out to kids that were pumped and will put them to use.
Here's a few from today:
Stickers and handshakes: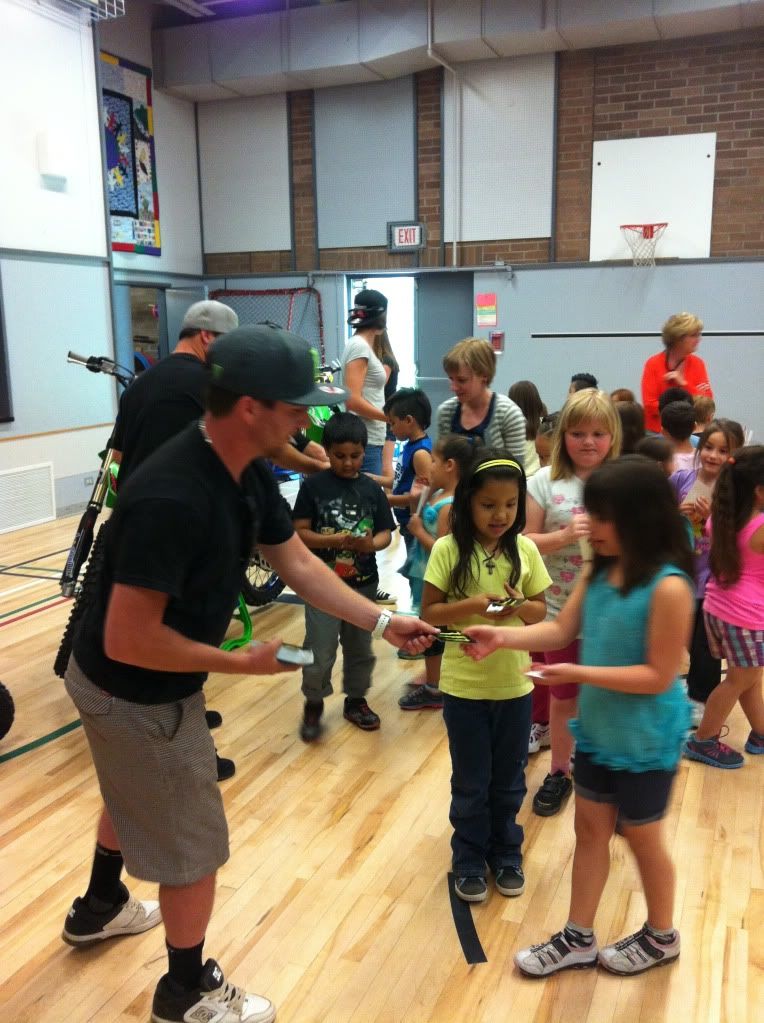 Gauldy: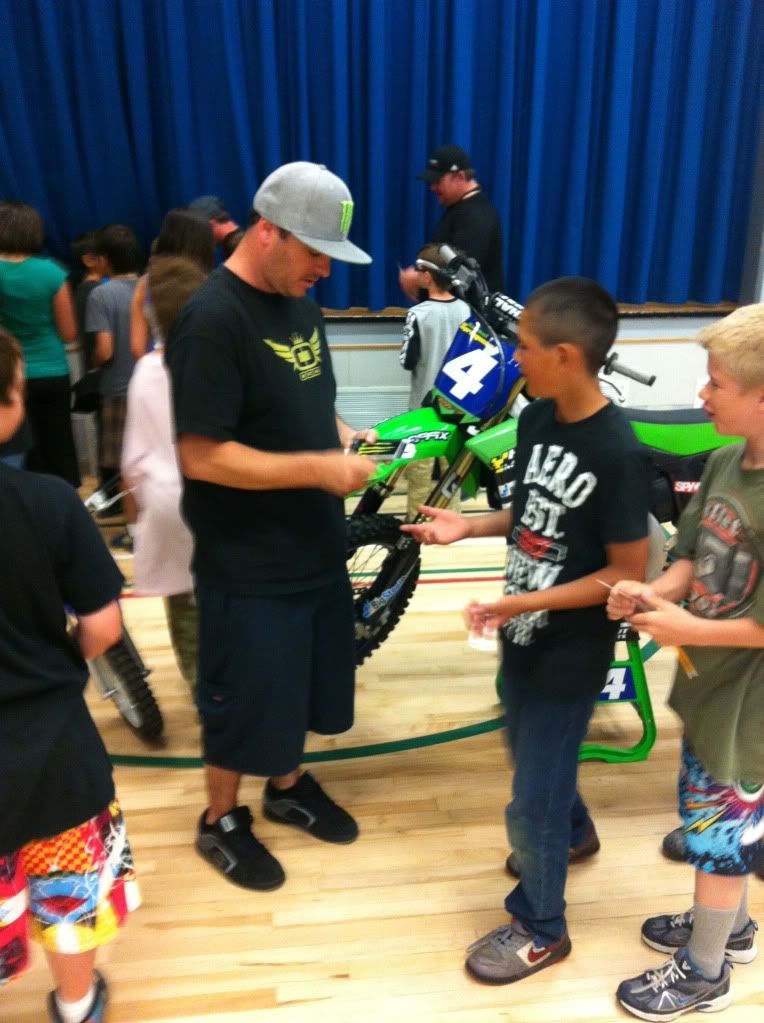 Kyle Springman...popular guy today!
Rachel giving away one of her jerseys and making one young girl extremely happy: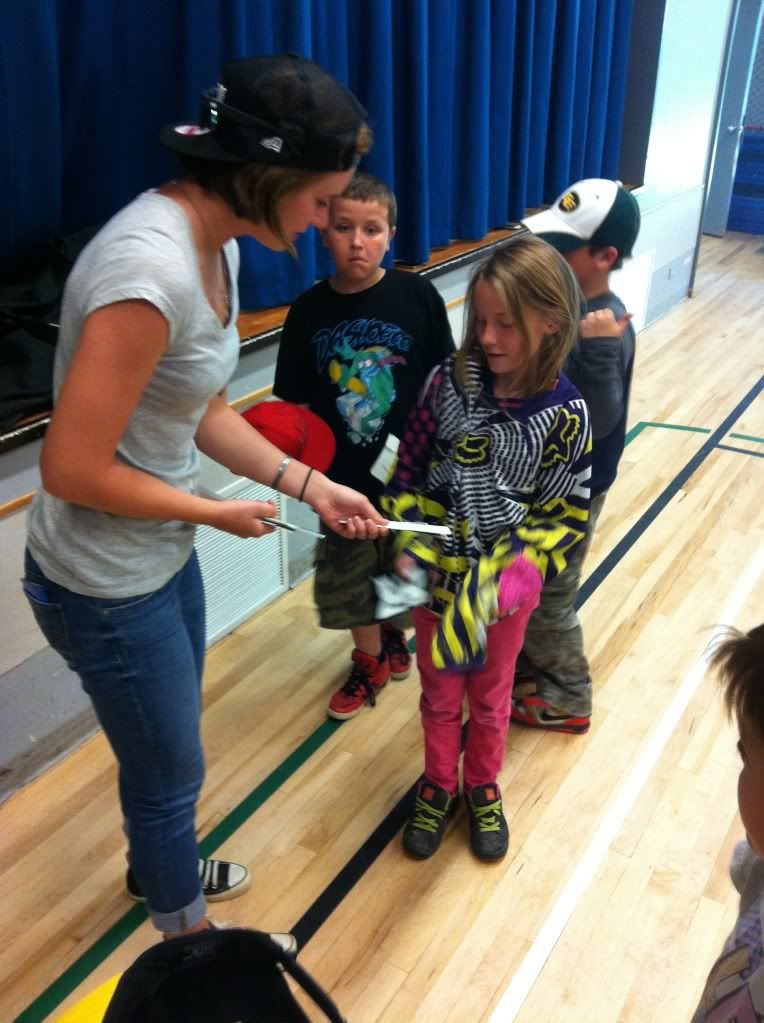 Beats: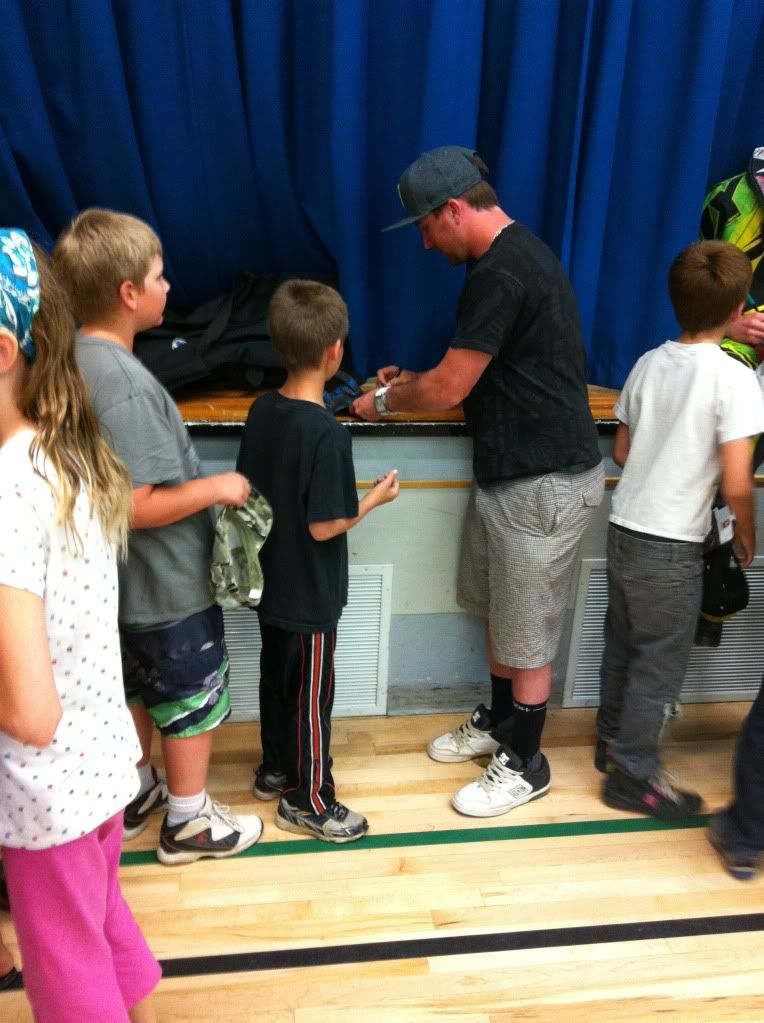 Camille signing autographs: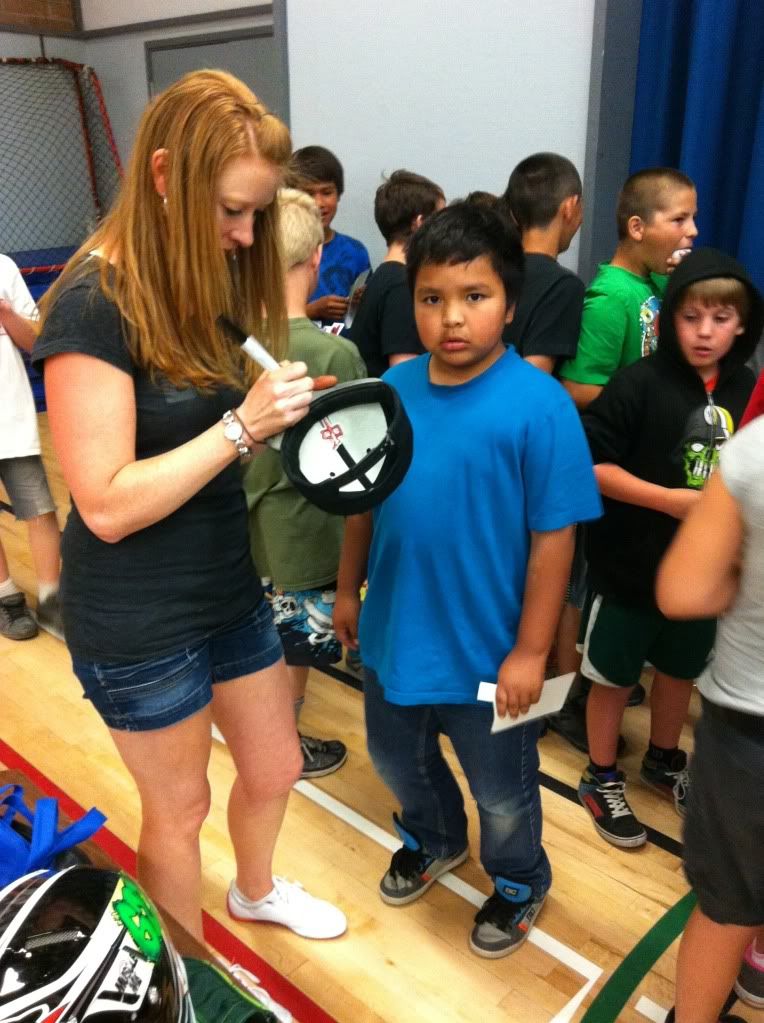 The kids went crazy when Kyle rode into the gym fully geared up (and hit the throttle a few times!)
Couple girls from my class and all the special guests:
Last edited by
dals3
on Fri Jun 07, 2013 10:30 pm, edited 1 time in total.
the ultimate god
Posts: 13285
Joined: Sat Dec 07, 2002 10:56 am
Location: watching the AMA lites then going to a CMRC Nat is like a steak dinner compared to a spam breakfast
Contact:
That's awesome!!! Dals, not only are you a classy house guest but a real great person to make the effort to inspire your kids there! Hats off.
the ultimate god
Posts: 4899
Joined: Sat Jan 21, 2006 11:58 pm
Province/State: Ontario
Location: a greasy spoon somewhere
That sounded like it was amazing. Great job organizing that, Dals, and kudos to everyone who spoke.
They would have been bored to tears listening to me talk about taking pictures and telling stories!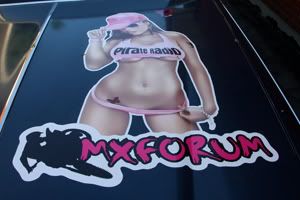 "I'll be there taking shitty, out-of-focus pictures of my thumb and girls' bums"
Pink Palace All Star
Posts: 1632
Joined: Thu Feb 26, 2009 1:43 pm
Province/State: British Columbia
Location: Cave in the Noble Canyon area
Knew you guys would kill it....
Amazing work all of you!
Merritt is a great Geographic area for riding at all levels & is very culturally diverse! I truly believe that you folks getting the straight goods out to these kids with your experience and Raw Passion will have a Great Positive Spinoff in the ensuing years!
Not much we did at school was talked about beyond the Halls or the Doors after last Buzzer Friday afternoon, but I'd be willing to Bet this Deal was for sure!
Thanks Sheldon Great way to kick-off The Loops National Weekend!
Who is online
Registered users: Bing [Bot]