Moderators: bigwave, AirMail, pillow
pink palace legend
Posts: 1678
Joined: Mon Mar 27, 2006 7:46 pm
Province/State: British Columbia
Location: Sitting in a pile of aluminum chips with a princess auto dremel
Stay Tuned... starting after the '09 Labour Day long weekend, tons of old school moto is on the way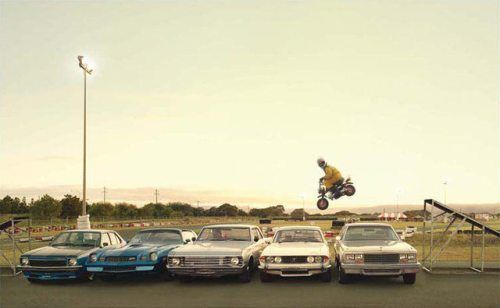 justpinit, I'm totally down for this. I'd be happy to help out. You got a theme in mind, or just old school???
If it's Magoo, I'm soooo down. He's my favourite rider of ALL TIME!
One of my all time favs of Chandler:
With my Rob Kinsey print of Magoo pulling the holeshot at the Des Nations: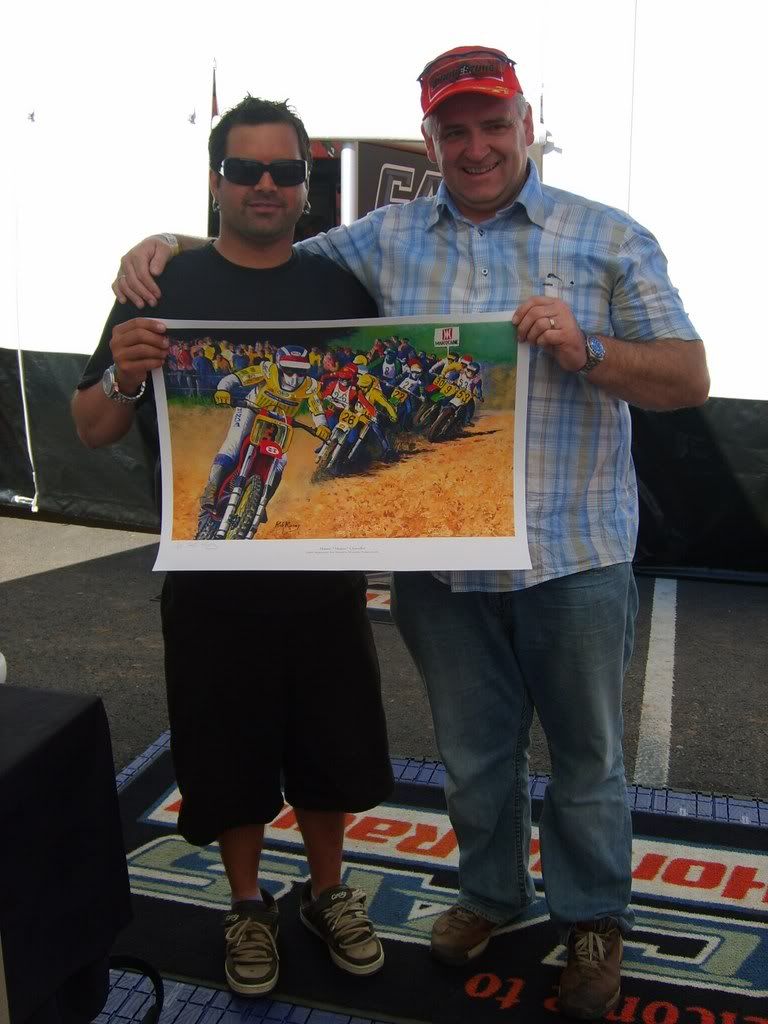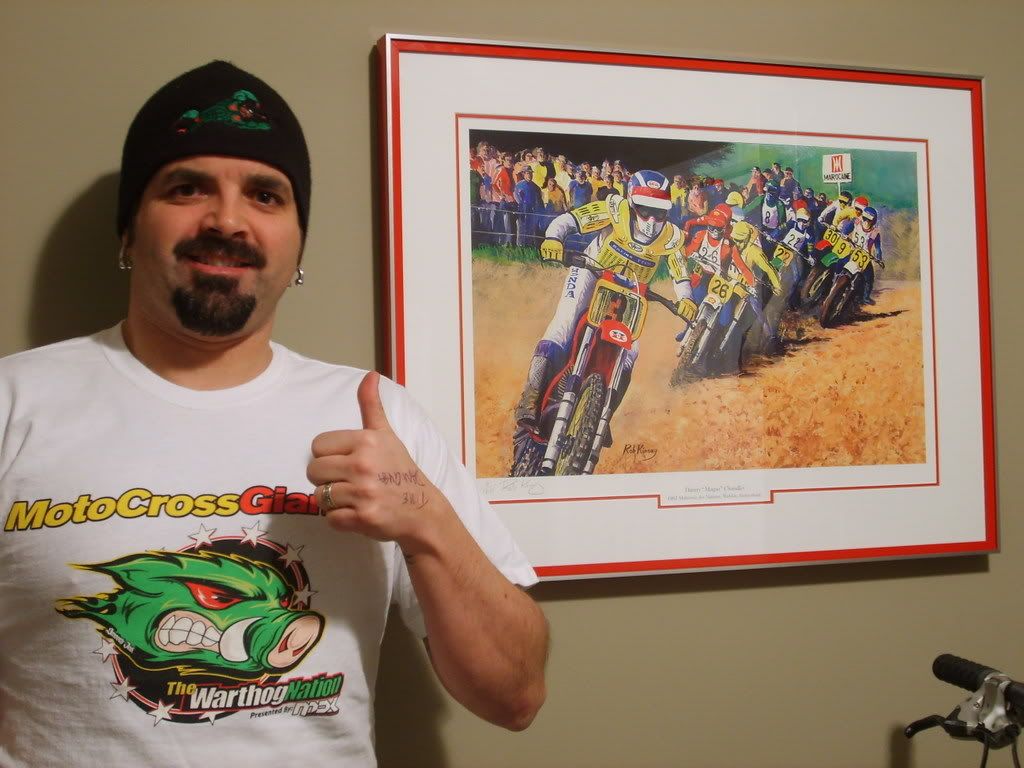 Non-Magoo:
Mr. Bailey:
The Bomber:
Mickey Dymond:
Guy Cooper:
The Hurricane, et al:
Some Canadian Content - Ross "Rollerball" Pederson (My childhood hero):
I could play this game all day long. Let's get some more up here, boys...
Alright, I'm going again....
A little more Rollerball (chasing down Ricky Johnson):
Hannah, Hansen, Barnett & Glover pics:
Since MXDN is coming up right away...
Micky Dymond before his days on Big Red:
And after his days on Big Red:
How AWESOME is Broc's gear in this shot???
Wardy in what I claim is the earliest scrub (before Jo Jo Keller)....
*Next time I'm going with old school Euros...
Nice work dals,I still remember watching Magoo on abc in 82 in the usgp & the superbikers he was on fire during that time period plus winning all the motos of the trophy & mx desnations that year......here's a couple of pics to help keep things rolling,I'll let everyone guess the riders to show their old school knowledge.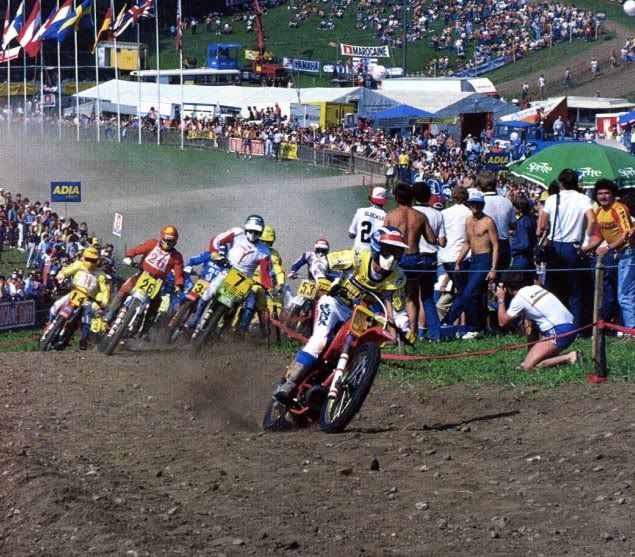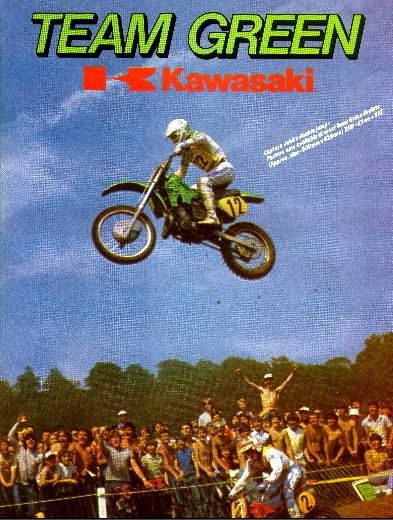 pics scanned from mxa,drb mags.
Steve those are great!
I love the 1st Johhny O pic!
On the minis I THINK #2 is Larry Brooks...(?) and #3 is Eddie Hicks...(?) *Let me know on this one.....
Chandler holeshot
Jeff Hicks
Georges Jobe jumping Andre Malherbe
I'll post up a clean one of that last shot.
And here's a couple of old oakley ads: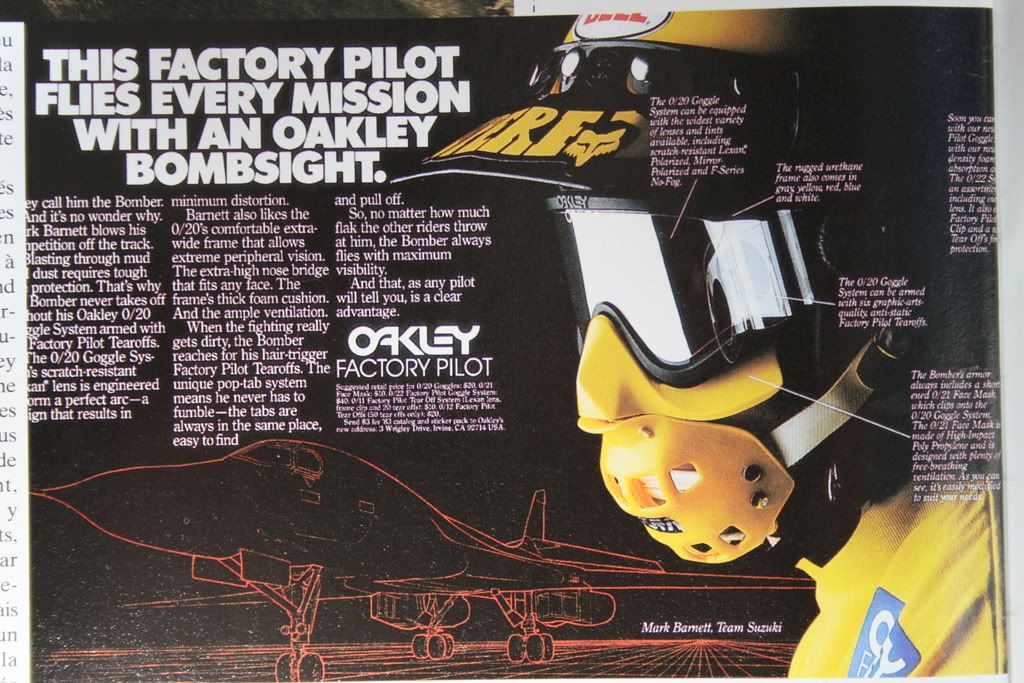 I can only find this one in French...???
Good job Dals correct on all except Hicks(close though) it's actually Bobby Moore............nice full width Jobe pic. A couple more pics: #801 earned a factory ride for 86 after a strong performance in 85 as a privateer but disappeared a couple years later.
250 Start at Saddleback in 82: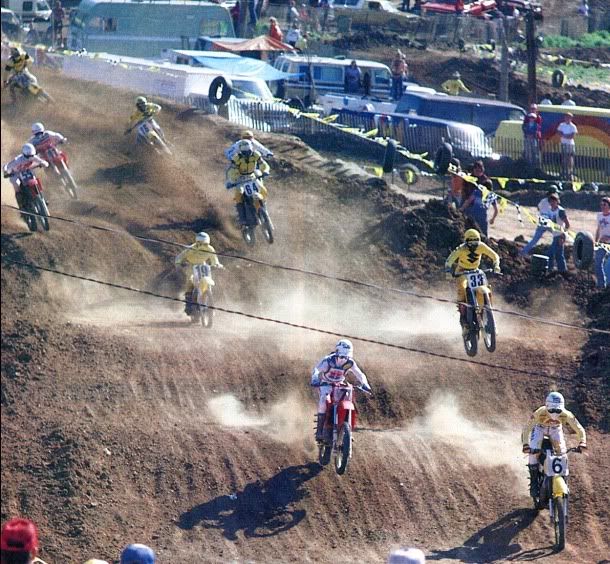 motocross/mxa mag pics
Cool.
I'm going with Eddie Warren out of Michigan as #801, but I'm not too sure on that....
Saddleback is one place I REALLY wish I would have been able to ride at (or to spectate at least). There was a great post some time back in this section about Saddleback. Check it out if you haven't already.
dick - VERY COOL about the Jobe pic with that little extra
. I knew Mitch was working with Georges a while back in Dubai from what I'd read and seen on the net, etc. and it sounded like an amazing opportunity. I'll tell you I was cheering for and very impressed by Mitch at the first National in Kamloops this Spring. Love the guy.
*Also have a bit of a crush on Heidi (my wife is cool with it though
)...Jesus Christ, she's AMAZING; super fast, super friendly, super hot.
Return to "Old SchOoL MoTo..."
Who is online
Registered users: Bing [Bot], Majestic-12 [Bot]